biography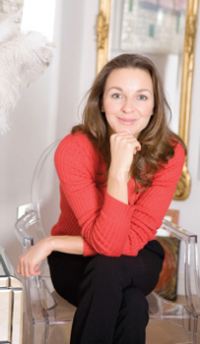 Pontine's distinctive style and punchy attitude exude luxury with a flying spark.
As a dynamic designer and artist, Pontine's personal ability to intercross disciplines from Fashion, Art and Design have been elemental to creating her unique Postmodernist style. After training at Sarah Lawrence College and Parsons School of Design in New York, Pontine threw herself into the NY fashion scene where she worked for Interview Magazine and assisted photographers, Ellen Von Unworth, Ditmar and Tiziano Magni and stylists Victoria Bartlett and Liza Bruce.
Pontine went on to complete a Masters in Industrial Design at Domus Academy in Milan. It was during this time she was unable to find the perfect handbag and started creating her own designs in her atelier. A buyer from Corso Como in Milan spotted her and immediately placed an order launching the label. Pontine Paus has been described by Vogue as the 'next big thing' and the Financial Times describes her as the new trendy niche label next to Anya Hindmarch, Gerard Darel, Martine Sitbon and Ballantyne. Her collaborations to date include collections commissioned by Levis, Luisa Beccaria, Ben De Lisi and Caroline Charles.
Pontine Paus collections are distributed in exclusive boutiques and prestigious department stores internationally. Pontine's designs circulate in exclusive private circles seducing both celebrities and royalty alike including Kylie Minogue, Lily Donaldson, Francesca Versace, Leikeline and the Royal Families of both Sweden and Norway … Pontine's creative and commercial flair have spread into Fashion, Beauty and Art.
She is also founder of cult cosmetic product Dr.Lipp, a 100% organic multi-purpose lip & nipple balm, which she created together with the Head of Marketing for Stella McCartney at the time. A favorite among the Fashion set and famous make-up artists, Charlotte Tilbury, Pat Mc Grath, Sharon Dowset & Charlotte Blackeney. Dr.Lipp is distributed in prestigious stores internationally and is a best-seller in Space NK stores.
The House of Paus Ltd. aims to expand its multi faceted disciplines always offering new perspectives that will tickle your fantasies…